Pujya Swami Tapovan Maharaj
Pujya Swami Tapovan Maharaj was the very embodiment of the ideals of sannyāsa, endowed with supreme renunciation, deep wisdom, saintliness, austerity, and compassion, a true virakta mahātma. Swamiji was born in 1886, in the village of Mudappalur in Palghat district to Balamba and Achutan Nair. His parents named him Subramanyan, but they lovingly called him Chippu Kutty. After the untimely death of his father, Swamiji left his home at the age of 28 to heed the call of the divine, eventually taking up residence in a one-room thatched hut in Uttarkashi, which came to be known as Tapovan Kutir. It was here that Gurudev sat at the feet of the great master for a total of seven years absorbing Vedantic knowledge. Swamiji attained mahāsamādhi on the 16th of January 1957 on the full moon day; in the Brahma-muhūrta at 4:30 a.m. "He came from nowhere, existed everywhere, and ultimately went to be everywhere."
Pujya Gurudev Swami Chinmayananda
Swami Chinmayananda was born on May 8, 1916 as Balakrishna Menon in Ernakulam, Kerala. Chattambi Swamigal a saint known for his yogic powers predicted a great spiritual future for the boy. A major turning point of his life was his meeting with Swami Sivananda. On February 25th, 1949, along with five other students, Balakrishna was initiated into sannyāsa. Swami Sivananda gave him the name "Chinmayananda Saraswati," Chinmayananda meaning "filled with the bliss of pure Consciousness. Swami Sivananda then sent him to Uttarkashi to study under Swami Tapovan Maharaj. Seven years later, brimming with Vedantic knowledge, with a heart overflowing with love for his countrymen, Swami Chinmayananda was ready to execute what he called the "Gangotri Plan" to spread the message of Vedanta to the masses. By the time he attained mahāsamādhiin August 1993, Gurudev as he is known affectionately by his followers, had conducted 576 jnana yajnas and scores of family oriented spiritual family camps, logging thousands of miles as he traveled across the globe. "If I rest, I rust," he quipped when asked to slow down. Gurudev is credited with the renaissance of spiritual and cultural values in India and with awakening the rest of the world to the ageless wisdom of Advaita Vedanta as expounded by Adi Shankaracharya. His legacy remains in the form of books, audio and video tapes, schools, and social service projects, Vedanta teachers whom he taught and inspired, and Chinmaya Mission centers around the world serving the spiritual and cultural needs of local communities. He has authored more than 250 books and written commentaries on various scriptural texts. Gurudev attained mahasamadhi on August 3, 1993.
Pujya Guruji Swami Tejomayananda
Swami Tejomayananda, the former head of Chinmaya Mission worldwide is fluent in English, Hindi, Marathi and Sanskrit. He has written commentaries on many scriptural texts, translated Swami Chinmayananda's commentaries into Hindi, and authored a number of original works in Sanskrit. Swamiji excels in expounding upon a wide spectrum of Hindu scriptures, from Ramayāna to the Shrīmad Bhagavad Gīta and the Upanishads. As Gurudev did before him, Guruji, as he is known affectionately, moves around the world at a bewildering pace conducting jnāna yajnas. Sudhakar Kaitwade (as he was previously called) was born in Madhya Pradesh on 30th June 1950. As a student he took a keen interest in music and drama. The spiritual call came to him in 1970 when he heard a Gita discourse given by Swami Chinmayananda. He was inspired to join the Vedanta Course at Sandeepany Sadhanalaya in Mumbai. After graduation in 1975, he served in the field for a few years as Brahmachari Vivek Chaitanya and was initiated into sannyāsa by Pujya Gurudev in 1983. Swamiji became the head of the Chinmaya Mission upon Swami Chinmayananda's mahāsamādhi in August 1993. He assumed his new role with ease and humility, and is working tirelessly to fulfill the vision of his guru. As he puts it, "I am not in Swamiji's shoes, I am at his feet."
Swami Swaroopananda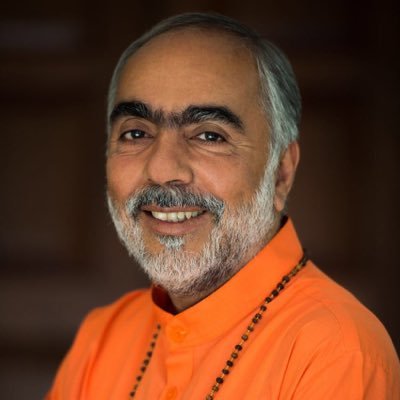 Formerly the Regional Head of Chinmaya Mission Australia, United Kingdom, Middle East, Africa and Far East, and presently Chairman of the Chinmaya Vishwavidyapeeth Trust (University for Sanskrit and Indic Traditions) and Director of the Chinmaya International Residential School in Coimbatore, South India, Swami Swaroopananda has now been bestowed by Swami Tejomayananda the privilege to also serve as the Head of Chinmaya Mission Worldwide.
Resident teachers
Sri
Siva Velu ji
Śri Siva Velujī successfully completed the 16th Batch Vedanta course (2014- 2016) at Sāndeepany Sādhanālaya Mumbai, where he studied under Resident Āchārya, Swāmi Bodhātmānandajī and Chief-Acharya Swāmi Tejomayānandajī. Having worked as a senior executive in the American Corporate world for several years, Sivajī is one of those who took the "Exit #60" to pursue the spiritual path full time. Prior to joining Sāndeepany course, Sivaji had served at Chinmaya Mission Ann Arbor for nearly twenty years, having trained under Sharada Kumarjī. During that period, he gradually increased his involvement in study group discussions, Satsaṅgs and Bāla Vihār teachings. Inspired by the Teachings, Sivajī left the Corporate world to pursue Vedānta study at Sāndeepany Sādhanālaya. Sivaji was assigned as resident Spiritual Teacher at Chinmaya Mission Alpharetta in 2016 where he conducts classes (including on-line sessions) on Prakarana Granthas and Upanishads along with Stotrams and Bhakti texts. Sivajī also helps the study-group moderators by periodically participating in their respective study groups.
Srimati Sushma ji
Srimati Sushma ji has been actively involved as sevak with the Chinmaya Mission Ann Arbor for over twenty years. She did her Vedanta course in 2011 at Piercy CA held by Swami Bodhatmanandaji, Swami Ishwaranandaji and Sharada Kumarji. She took early retirement from her Engineering profession in 2006 to focus more on her spiritual studies and had been serving the mission full time ever since. She has been conducting study groups and teaching at the various Bala Vihar centers of CM Ann Arbor. In Aug 2016 she was assigned to be resident Teacher at CMA. Sushmaji conducts classes (including on-line sessions) on Bhagavad Gita, Vivekachoodamani, Narayaneeyam, Vedic chanting, Vishnu Sahasranamam and Stotrams. She teaches the Devi Group in which texts like Devi Mahatmyam, chanting of Soundarya Lahari and Lalitha Sahasranamam etc., are learnt. Sushmaji also conducts regular pujas at the Ashram which include Krishna Puja, Shiva Puja and Paduka Puja.
Bala Vihar teachers at Cumming and Marietta locations
Our Bala Vihar classes are conducted by trained Sevaks who are passionate about Hindu Culture and Philosophy. Details for the Bala vihar teachers:
Bala Vihar teachers list
Our Study group facilitators and enrichment class teachers
In addition to the classes conducted by our Spiritual teachers Sivaji and Sushmaji, many facilitators conduct study groups on texts like Self Unfoldment, Tattva bodha, Bhaja Govindam etc. Study groups are conducted in a discussion format and are very helpful to clear the doubts that arise in our minds about the text being studied. CMA also has yoga classes for adults and kids, taught by teachers highly skilled in their art. Please see
here
for more information. Additionally there are 6 language classes for Bala vihar kids at Cumming. You can register for them when registering for Bala Vihar. Find all details here :
Study groups list
Chinmaya Mission
was established in India in 1953 by devotees of the world-renowned Vedanta teacher, His Holiness Swami Chinmayananda.
Guided by His vision, devotees all around the world formed the nucleus of a spiritual renaissance movement that now encompasses a wide range of spiritual, educational, and charitable activities, ennobling the lives of thousands in India and across its borders.
After pujya Swami Chinmayananda's mahasamadhi in Aug 1993, pujya Swami Tejomayananda spearheaded the mission. Under His guidance, the mission continued mushrooming across the globe with over 300 centres worldwide. Many new programs like the Chinmaya Naad Bindu, Chinmaya Vishwavidyapeeth etc. that were envisioned by Pujya Swami Chinmayananda, were started successfully under the leadership of pujya Swami Tejomayananda. In Jan 2017, Swami Swaroopananda, took over the administrative leadership of the mission
More information about CM Worldwide
Chinmaya Mission West (CMW) is the administrative head for all the centers in the US.
More information about CM West
Chinmaya Mission Alpharetta is a 501(c)3 non-profit organization.
With the grace and blessings of Pujya Gurudev and Pujya Guruji, on the auspicious Mahashivratri day of 2001, a Balavihar of 25 kids was started at Alpharetta. Over the years the the enrollment kept growing and from 2007-2022 all the Bala Vihar activities moved to South Forsyth Middle school in Cumming GA.
CM Alpharetta became an unincorporated center of CM West in July 2007 and got incorporated as an independent center in 2008.
CM Alpharetta purchased a property on 11.5 acres suitable for its Ashram which was inaugurated by Pujya Guruji in May 2015 who named it 'Chinmaya Gurukul'.
CM Alpharetta Board:
Chairman: Swami Swaroopananda
President: Shekhar Kanetkar
Secretary: Bhavana Subramanian
Treasurer: Girish Mhaskar
CMA Seva Groups
All the tasks and events at CMA are carried out by Seva groups (or committees).
Bala Vihar and Language classes:
A team of specially trained, experienced, and dedicated teachers conduct the Bala Vihar program. Through games, arts, crafts, stories, and other unique techniques, the Bala Vihar program teaches and reinforces Hindu spiritual and cultural values. The classes are for kids from PreK-12th with Curriculum for each grade that is developed by CM West.
Currently we have 6 Indian Language classes (Hindi, Marathi, Telugu, Malayalam, Sanskrit, Tamil)